Cricket Captain 2020 will release on Steam on Thursday June 18th, Android, iOS and Mac versions will be coming at a later date.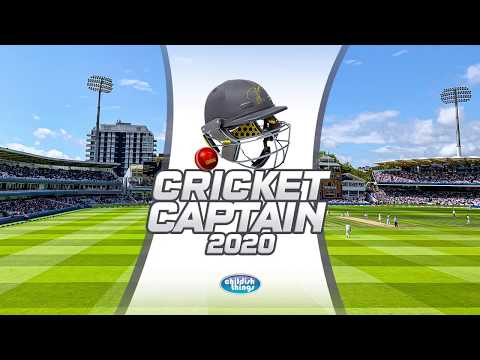 Cricket Captain 2020 is the perfect companion if you are missing live matches, as the hugely anticipated season is disrupted. With the incredibly exciting 2019 World Cup and the fiercely fought Australia tour of England, a legion of fans have been attracted to the sport. The inaugural 100 ball competition promised to provide great entertainment for those new converts, and the first test-match championship was well under way. After canvassing our players, we have decided to create the 2020 season as it was originally intended, in all its glory.
Rain delays in one-day and 20 over matches have been introduced, including the Duckworth-Lewis-Stern system to calculate run-chase targets. There are also extensive additions to the database, including additional season by season player records.
The new 100 ball competition in England has been added, including updates to the match engine, AI and stats systems to accommodate the new format. Updates to domestic systems around the world have also been incorporated, including major changes to the competitions in Australia, South Africa, Bangladesh, Pakistan and India. Captains will also be able to switch between domestic teams in different countries for the first time.
Cricket Captain 2020 also features a full database update (over 7,000 players, including every historical international player), with improved player ability generation, using data from every form of cricket and with input from a team of researchers around the world. The database provides the attention to detail that the series is famed for.
Cricket Captain is unrivalled in cricket management simulation, and Cricket Captain 2020 improves the series once again. Put your tactical expertise to the test in the number one cricket management game.
Key features for 2020 include:
Rain delays in one-day and 20 Over matches:

introducing the Duckworth-Lewis-Stern method for the first time in Cricket Captain.

Improved weather simulation for all match types:

including more realistic weather patterns, and extra time to recover lost overs.

The new 100 ball competition in England:

a brand-new format, played between eight city-based teams.

Updates to all domestic systems and 20 over leagues:

play updated domestic leagues in South Africa, India, England, Australia, West Indies, Pakistan, Bangladesh, and New Zealand.

Ability to switch teams between countries:

play a full career mode, switch between teams across domestic systems.

Improved player generation system:

using data from every form of cricket combined with input from a team of researchers around the world.

Improved match engine:

with updates to bowler AI, spin bowler ability in limited over matches, and batsman scoring rates.

Current/last competition stats:

see details of current and last competition stats for all formats.

Historical scenarios:

Play in Classic England test series vs West Indies or Pakistan.

Tournament Modes:

Play in stand-alone One Day or 20 Over World Cups. Create your own World XIs, All-Time Greats and Custom Match Series.

New database:

full database update with over 7,000 players.

Internet game:

improved reliability and more teams to play on-line.