International Cricket Captain 2011 Mac edition
Purchase links

UK users
Australian users
New Zealand users
Indian users
The most realistic cricket management simulator ever made has been re-worked and now includes on-line match play, an improved one-day match engine, and refined player ability generation for an even more addictive experience. Build a world class county or state side by signing top players and nurturing youth.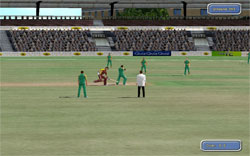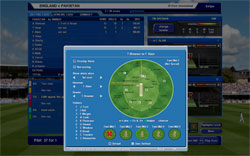 The new twenty-over international league adds an extra challenge to the game. New one-day and twenty-over team statistics give you more historical records to break in all forms of cricket, along with twenty-over international player ratings. Can you dominate in all formats with your team of star players?
It's now easier than ever to set the perfect field for any situation. The new custom field mode allows you to replace every field in the game and quickly switch between them when changing tactics or bowlers.
CRICKET CAPTAIN 2011 NEW FEATURES
On-line match-play between Mac, iPhone and PC users.
Play on-line with your English or Australian domestic team.
New custom field setting mode allows you to re-define every field in the game and quickly switch between them when you change your bowler or tactics.
Improved match engine speed
New twenty-over international championship and player ratings give you more silverware to play for in your quest for creating the number one side in world cricket.
Improved one-day match engine and refined player ability generation provide an even more realistic cricket experience.
Full schedule of one-day and twenty-over International fixtures, plus stand-alone international game modes.
Complete English and Australian domestic systems.
Updated team kits for international and state sides.
One day and twenty-over records for partnerships and best performances.
Complete player database of over 3000 players, containing every player currently playing first class or limited-over cricket from around the world.
Up to date county and state squads for the new seasons.
Comprehensive domestic and international fixture lists.
Improved player abilities to provide even greater realism.
Accurate and up-to date rules.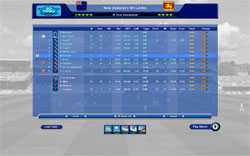 PLUS
Captain any test-playing nation
Captain any English or Australian domestic team
3D highlights featuring full motion capture take you right to the action.
Career, current and year-by-year stats of almost every current player in the first class game from around the world.
Play the 20 over and 50 over competitions
Play test or one day series between any of the test nations
Full transfer market, including overseas and specialist 20 overplayers
Control every key strategic decision in the game
Use specialist coaching options to develop your team
Search and sort options help you browse stats an pick your teams
In-game tips help you master the game
Nail-biting tension against challenging AI
Purchase links

UK users
Australian users
New Zealand users
Indian users