Hi all,
I decided that this year, to start the game, I would use Nottinghamshire, as it was the nearest county team to me.
There were only a couple of transfers in, with Jamie Dalrymple arriving, as did John Casey, a 20 year old youth player, who hopefully I should be able to utilize lower down the order.
Nottinghamshire VS Loughborough UCCE (University Match)
Teams:
Nottinghamshire:
M Lumb (C)
A Hales
J Taylor
A Voges
S Patel
J Casey
C Read (W/K)
S Broad
G Swann
A Adams
L Fletcher
Loughborough UCCE:
J Jones
C Burley
L Gibson
S Hunniford
A Perry
T Dennis
J Mudie
J Sutherland
A Irwin
C Armstrong
J Harris
Casey is given his first class debut in this match, so I could have a proper look at him, and decide what his role for this season would be.
Having lost the toss on a batsman friendly pitch, Notts were made to bowl first.
Loughborough performed well with the bat, reaching a respectable 312 all out by midway through the first session on day 2. The only real highlight from the bowling perspective was that Andre Adams got 5-64 on a lifeless pitch.
The Nottinghamshire reply started well, with Lumb and Hales reaching a century partnership in testing weather conditions. However, the rest of the batting wasn't as good, and Notts could have struggled had it not been for some good batting by Swann and Patel.
The declaration came through early on the third morning, with Patel narrowly missing a century, leaving Notts 116 ahead, in poor weather conditions, and a quickly deteriorating pitch. This time, the pace bowlers quality shone through, with Loughborough reduced to 21-6 after 16, Broad and Adams getting 3 wickets each. The collapse was complete midway through the afternoon session, Loughborough bowled out for 55, a win of an innings and 61 for Nottinghamshire.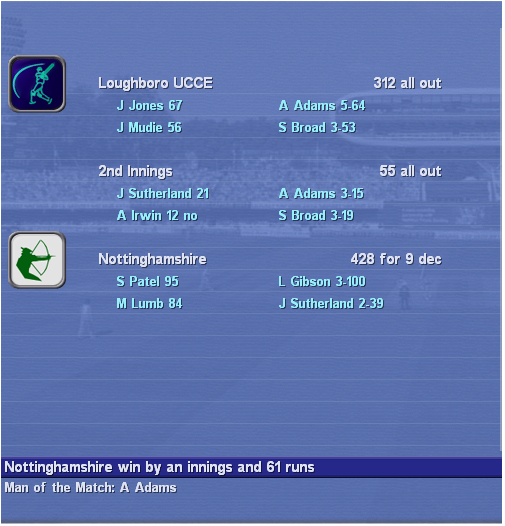 Next up, at home to Worcestershire in the County Championship opener.